---
✈ Delivery within 2 ~ 5 Working days.&nbsp More Details
🛡 We Provide Two Years Local Warranty.
Learn More
For all Roborock Products, We Provide Two Years Local Warranty.
Description
Main features:


3000Pa strong vacuuming, sweeping and wiping together, automatic detection of the carpet and automatic improvement of the vacuuming
570 ml large capacity dust box, 4 levels of vacuum setting, 270 ml water tank, 3 levels of water volume setting, 20 mm obstacle crossing, easier free climbing.battery management system with a battery life of about 150 minutes can clean a large area of about 250 m2 at the same time.
Intelligent stop point to continue cleaning. After charging, it automatically returns to the stop point and starts cleaning, so you can be sure that nobody is at home.
Is equipped with a high-precision intelligent sensor that can fully sense the environment and perform tasks such as collision, fall and edge cleaning.
Ultra-quiet cleaning process, multiple noise reduction, experience a quieter and more beautiful cleaning process.
You can store up to 3 cards. The function to create and save maps for the three floors will be implemented in the following OTA update version. So stay up to date
Fast dynamic mapping, LDS laser radar navigation 3.0
The new LDS Laser Radar Navigation System offers higher accuracy, faster mapping speed, more sensitive obstacle avoidance, and accurate and effective route planning.
High performance path planning, intelligent system algorithm for SLAM environments
The new SLAM algorithm with excellent computing power can immediately locate the exact position of the robot, draw the work path intelligently and improve work efficiency.
APP control, Alexa Smart Voice Control
It can be remotely controlled by APP and scheduled for cleaning even when people are not at home. Alexa's intelligent voice control, just say the voice command, can process and listen to your instructions immediately.

Basic specifications
Product size: 350X350X96.8 mm
Rated power: 100-240 V ~ 50/60 Hz 0.5 A.
Rated power: 19,8 V 1A
Rated voltage: 14,4V
Nominal power: 40W
Wireless connection: Wi-Fi IEEE 802.11b / g / n 2.4 GHz
Product net weight: 3800g
Product color: white
battery capacity: 5200mAh
Ability to overcome obstacles: 20 mm
Cleaning area: cleaning approx. 250 m2, wet resistance approx. 200 m2 (these data are obtained under laboratory conditions and different working environments have different cleaning areas).


Specification

Brand: Dreame
Model: D9
types of accessories: Dust box, Wiper pad, Other accessories, Roller brush, Side brush, Sweeper, Water tank
Material: ABS, Other
Function: mop, suction, sweep, sweep suction, vacuum, wet
Feature: Lightweight, Mop, Remote control, Schedule, Self loading, Small, Wet
Schedule function: Yes
Self-charging: Yes
Virtual wall: Yes
Soil types: carpet, ceramic tiles, marble floor, burled carpet, tiled floor, wooden floor
dust container capacity: 570ml
Water tank capacity: 270ml
Suction (pa): 3000Pa
Power (W): 40W
Voltage (V): 14.4 V
Noise (dB): 65 dB

Packing list
1X Sweeper
1X Charging Cradle
1X Cleaning Tool
1X Power cord
1X Water tank
1 X Mop
1X Side brush
1X Manual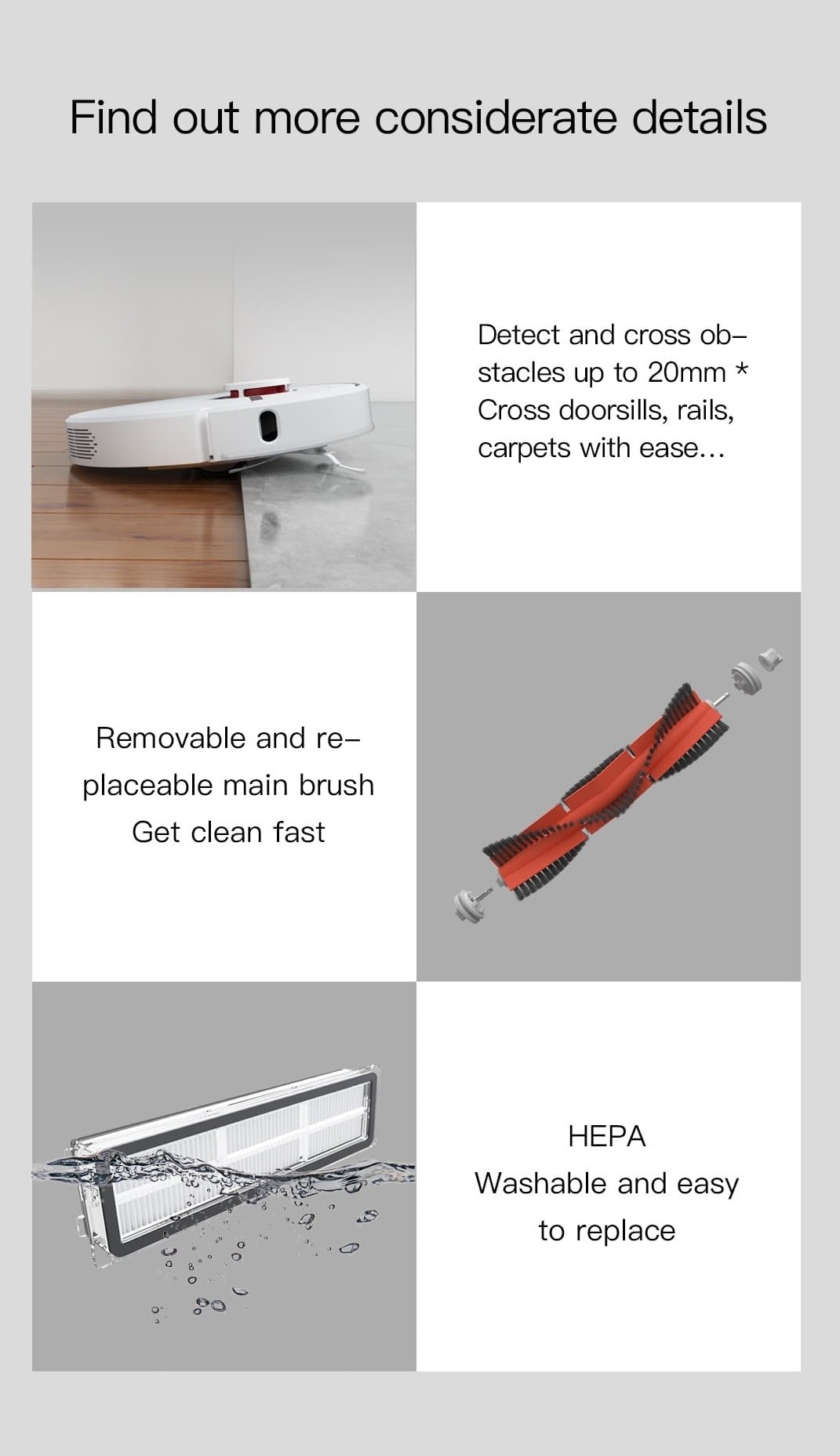 Payment & Security
Your payment information is processed securely. We do not store credit card details nor have access to your credit card information.